"Plan for the future! That's where you'll spend the rest of your life!"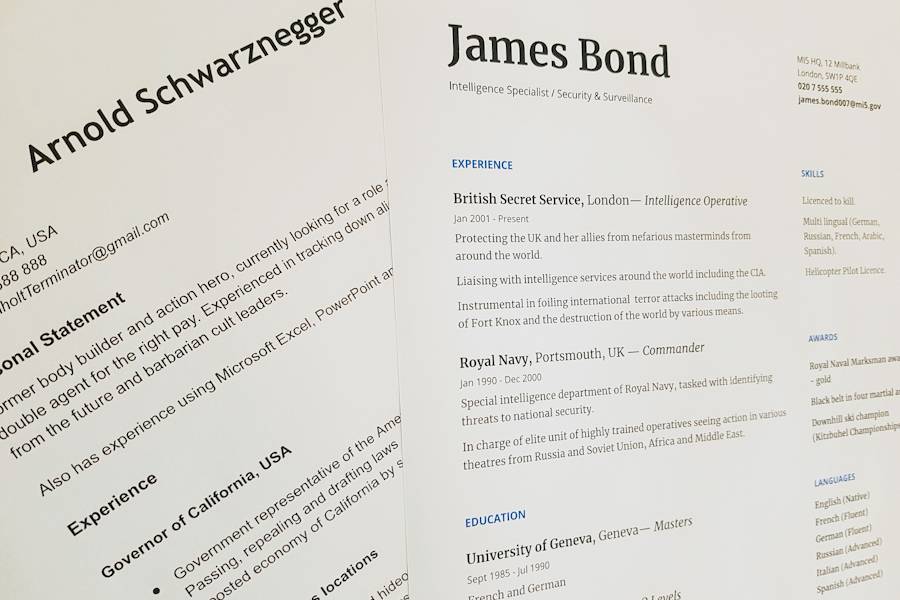 How To Have a Great CV – Even Without Work Experience
"Life experience is the new work experience."
— Richie Norton.
Having an outstanding CV is non-negotiable when looking for a job. For those with lots of experience, this can be relatively easy. But for those just starting out, putting together a resume requires innovative thinking.
Your most valuable asset when seeking employment is relevant work experience. Without it, an applicant needs to build a CV that clearly shows their abilities and grabs the attention of potential employers.
When you haven't worked before, the best way of getting your foot in the door is to convince hiring managers that you have great potential and are perfect for the role.
The Importance Of A Good CV
Most job applications now happen online and submitting your CV is sometimes your only interaction with a potential employer. Almost a quarter of hiring managers spend less than 30 seconds looking at a CV before deciding if the applicant is worth an interview.
When you have little to no experience, it can feel overwhelming trying to put together an impressive resume. However, there are several ways of making a great first impression that don't rely on extensive prior experience.
We're here to tell you how.
What's in a CV?
Every CV, no matter how experienced or inexperienced the applicant is, contains certain basic sections:
Contact details
Personal profile: a short summary of your skills, tailored to the job in question (also called an opening statement)
Education: relevant qualifications
Work experience: detailed history of previous jobs and/or volunteer work
Other noteworthy skills, interests and hobbies: any other activities that show your skills or positive qualities
References: comments from previous employers, where possible
When you're building a CV with no prior work experience, your focus will be on using your personal profile/opening statement and education/qualifications to sell yourself.
Put Your Best Foot Forward?
You should always tailor your CV to the job you're applying for, whether you have a decade of experience or none at all.
If you have little or no experience, your biggest priority should be drawing attention to your best qualities. These could include different skills, as well as personal qualities, such as creativity and enthusiasm (soft skills).
The structure of CVs can differ from person to person, but if an applicant has no experience, then the focus must be on positive qualities and skills that fit the role in question. If you have no work experience, these five pointers can help to build an impressive resume.
1. A strong opening statement
An opening statement, also called a personal statement, is a short introductory paragraph at the top of your CV. This tells a potential employer why you'd be an asset to their company. You have less than a minute to impress the manager reading your CV, making a good opening statement essential.
It should include:
A brief mention of any formal (tertiary) education or qualification
One or two standout skills — usually "soft" skills (e.g.: great communication skills, or very creative)
A reference to the role you're applying for, or what your goals are in your chosen career or field
An opening statement needs to convince a hiring manager that you're a perfect fit for the role in question.
2. Focus on skills, not roles
If you have no work experience, then it's best not to dwell on that in your CV. Instead, direct the potential employer's attention towards what you do have: your education and transferable skills (hard skills and soft skills). This also involves tailoring your CV for the job, as different roles require different skill sets.
Some examples of hard skills are:
Fluency in more than one language
Proficiency in software (e.g.: Microsoft Office, WordPress etc.)
Social media skills
Research skills
Others include web analytics, data engineering, SEO, project management and JavaScript. If you have no prior work experience, then you would ideally need to provide some context of where you used those skills — i.e.: in volunteer work or as part of a qualification.
Examples of soft skills include:
Communication skills
Attention to detail
Creativity
Decision making
Time management
When detailing your skills, you need to provide examples that evidence your proficiencies. While you might not have experience of working with WordPress in a paid role, you may have used it during your studies or in a volunteer position.
3. Include all skills — even the little ones
Someone without experience might feel like they have nothing to offer. However many employers are looking for candidates with obvious aptitudes — ones that you wouldn't think to include on a CV. Having a driver's licence (or motorbike licence), for example, is a huge asset when applying for work, no matter what the industry.
4. Add in volunteer work
Working for a salary isn't the only type of experience. Skills that you pick up from volunteering are just as valuable as those from paid jobs. Having experience with admin, marketing, or social media for volunteering at a charity demonstrates your capabilities to prospective employers. Experience from volunteer positions can also display your leadership skills and ability to work in a team.
5. Use your education
While having a degree doesn't guarantee you a job, you can use it in a CV as a source of transferable skills. Conducting research, working in a group or chairing a committee shows skills that are very attractive to companies. Any practical experience at school or university is also a great addition to a CV.
If you've completed any online courses, include these details too. Studying online requires dedication and discipline and highlights your commitment to enhancing your skills.
Fine-tuning and presentation
It is hard to break into the job market when you've got no formal work experience, but it is definitely doable. While an applicant with years of experience might seem like a better fit for a job, if their CV doesn't catch an employer's attention within seconds, their experience will count for nothing. There are a few golden rules:
Keep things brief
Keep things relevant
Be clear and accurate
Building an impressive CV can seem daunting, but with a little help it is within everyone's reach.
« Secrets to a Successful Career in Digital Marketing
The Benefits of Corporate Management Training Programs »