"Thinking is the hardest work there is, which is why so few engage in it - Henry Ford"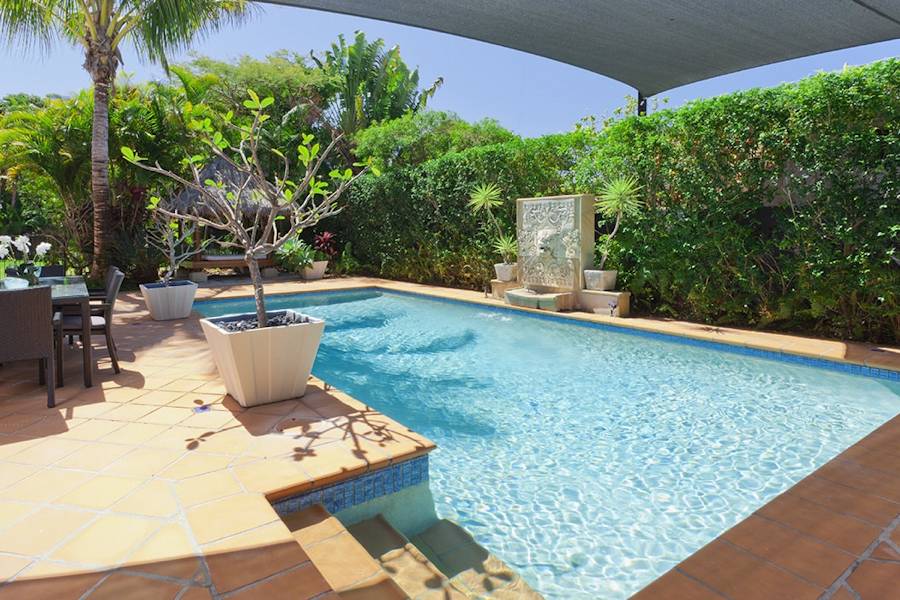 How to become a Swimming Pool and Spa Builder
What's not to like about relaxing by the poolside, just kicking it loose on weekends in the comfort of your own yard? Everybody everywhere absolutely loves a swimming pool and everything that comes with it.
So much so, that the United States has an estimated 10.4 million residential swimming pools, and close to almost 309,000 public swimming pools. That's 1 swimming pool allocated for the enjoyment of at least 31 people! Australia comes at a close second, owning and building more domestic swimming pools (per capita) than any other country.
Having a swimming pool, in-ground or aboveground, big or small, used to be a display of public stature and opulence. But with the rise of the DIY movement in today's age of information, anyone can imagine building an oasis entirely of their own.
Like any other form of construction, DIY or otherwise, building requirements and licenses come into play. The building and construction of swimming pools and spas are sanctioned by local governing laws and ordinances, licenses, and permits. All the legal requirements are paired off with personal determination and of course, a heavily lined pocket to address budget concerns.
Here are a few important insights to know before deciding to become a swimming pool and spa builder in Australia.
Step 1: Becoming the Builder
Your love for being waterborne isn't exactly a top of the list trait to go with if you desire to become a swimming pool builder. But it may just be enough to keep that drive burning for you to learn what it takes to become one. An ideal swimming pool builder should match the following 6 personality traits;
Working under the sun is not a problem.

Physically fit to withstand the perils and challenges of outdoor work.

Never a procrastinator.

Will work independently.

Has team spirit.

Will follow directions.
If you think you have all 6 traits, then you may now proceed in getting the proper education and training courses offered in building swimming pools and spas. Australian Vocational Education and Training (VET) offer entry-level courses in swimming pool building that usually require intermediate schooling or at least a Year 10 competency equivalent in Australian standards.
Step 2: The Builder's Basic Tasks
Once you get yourself past step 1, then it's about time to get locked and loaded with the duties and tasks that fill your regular 9 to 5, and perhaps some overtime whenever needed, on your merry way to becoming a professional swimming pool builder.
As you are now very much part of the professional swimming pool building industry, the second largest in the whole wide world, the following is what you may expect on a daily basis;
You will be working within all levels of construction and will meet with designers, architects, landscape architects and allied contractors during the entire duration of a project.
When building residential and commercial swimming pools or spas, you will read and interpret building plans and specifications, and will be expected to undertake construction according to these plans.
You will also be expected to be able to conduct the work as needed, however labour-intensive you must be prepared to undertake and supervise the job at all times.
You must exhibit and conduct the training and education you have earned in the proper application of;

Fibreglass lining

Concrete pouring

Waterproofing

Tile and paver installation

Plumbing system installation and commissioning
Step 3: Getting down and dirty
With prior exemption to the last bullet point of step 2, getting things done as a swimming pool or spa builder will require you to get physically down and dirty in the course and duration of swimming pool building and construction.
Needless to say, diamonds are always found in the rough. Adept with the skill and training of a professional pool and spa builder, menial tasks and duties await your personal touch at the job site. Be confident to lead by example and take on the job headstrong!
Get ready to mess around with the following challenges in pool building and construction;
Soilworks

Civil works and Masonry

Plumbing works

Electrical works

Mechanical works
Getting steps 1,2, and 3 to your mind, will help your body and spirit in preparing for the responsibilities that come with becoming a swimming pool and spa builder. But in order to become a true professional, you must have what it takes to meet the requirements in getting yourself a license and accreditation from The Swimming Pool & Spa Association of Australia Ltd and the Pool and Spa Association Ltd New Zealand (SPASA).
The SPASA is an institution in getting your credentials for your swimming pool building and construction service licensed and accredited. You can apply for different licenses as a contractor, nominee or site supervisor. Each license has a different set of experience requirements that goes together with your application.
There you have it. Hopefully, the information I have shared with you on this article will make sense for you on your quest to become a swimming pool and spa builder. Like the adage says, "if the shoe fits", then, by all means, go for gold!
Best of luck on your quest and who knows, someday soon, you just might be building the best swimming pools all around Australia, or even beyond!
« Online Classes – Are Your Students Getting Bored? Here are Tips to Keep Them Interested and Engaged
What to Do If Remote Working Affects Relationships »