"Is your career goal outrageous? extravagent? beyond reality? Then think again!"

How Team Building Activities Can Enhance Productivity
You spend a significant portion of your life at work. And if you don't enjoy it, "life" isn't going to be that exciting.
When you have a great day at work… things go well… deadlines met… boss is pleased… etc… You go home with a smile on your dial.
And life is "good".
But constant challenging pressures in the workplace can easily turn a great day into a shocker, making you wish you'd called in sick that morning!
Being more productive at work isn't rocket science and there are millions of tips available on how you can "work around" those situations. How "you" can improve "your" productivity. How "you" can be happier in your workplace.
Typically, they go along these lines…
"Being more productive at work starts with changing your current habits and trying something new. Many of these changes can also benefit other aspects of your life. With a little effort, you can streamline and improve your approach to the work week."
Source:
But this article isn't about that.
Because it's not just about "you"! Nor is it only "your" responsibility!
It doesn't matter what job you are in, there are OTHER people in your workplace. And a key area that is often overlooked, is the effect you ALL have on one another.
In most workplaces, you'll have a very diverse range of personalities, all with different goals and work ethics.
And even if you work alone, you still have to know how to relate well to other people you encounter on a day-to-day basis – customers, suppliers, etc.
"Work" can get extremely challenging at times just "dealing" with this!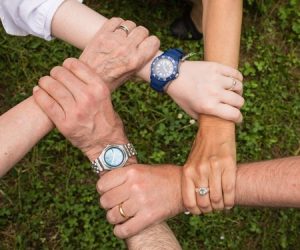 The best way to "deal" with it is through team building exercises.
Effective team building strategies can help all employees work better together, despite their different goals, egos, personalities, ideas, ethics etc.
Can you imagine the people in your workplace working well together? Being more effective? More productive? And your workplace is a happier place to be?
It is possible, but I don't want you to take on the challenge alone because team building can be tricky! I know I've "rolled my eyes" enough times at seemingly pointless activities that were supposed to encourage team bonding!
You can find effective team building ideas here that actually do help people in your workplace strengthen their relationships with each other.
To have fun. To laugh. To learn. To connect with other members of your team. And to improve the productivity in your workplace!
And if you are wondering why productivity is so important? Well, without it, you'll probably be looking for another job, soon.
To be an effective and successful business, your company needs to reduce their costs and improve the productivity of all the inputs into the business, and that includes its employees.
And rather than rely on each of "you" to do something about it individually, your employer should be getting all the workers involved in this worthwhile cause.
Being more "individually" productive at work generally boils down to how well you manage your time. And a large part of your time is affected by your interaction (good and bad) with other employees and team members.
So, you can either increase your output to be more "productive"… stay longer, work harder.
Or you can work "smarter" by leveraging the combined efforts of the team in your workplace.
I know which way I would rather go 🙂
« What Makes A Good Entertainer?
7 Reasons for Youth Unemployment and How We Can Solve Them »